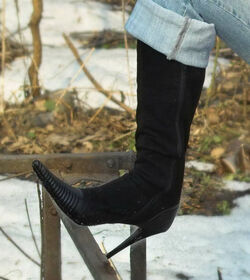 A stiletto heel is a long, thin, high heel found on some boots and shoes, usually for women. It is named after the stiletto dagger, the phrase being first recorded in the early 1930s.
Stiletto heels may vary in length from 2.5 centimetres (1 inch) to 25 cm (10 inches) or more if a platform sole is used, and are sometimes defined as having a diameter at the ground of less than 1 cm (slightly less than half an inch). Stiletto-style heels 5 cm or shorter are called kitten heels. High heels that can be lock on to a person typically have Stiletto heels/
Not all high slim heels merit the description stiletto. The extremely slender original Italian-style stiletto heels of the late 1950s and very early 1960s were no more than 5mm in diameter for much of their length, although the heel sometimes flared out a little at the top-piece (tip).
After their demise in the mid-late 1960s, such slender heels were difficult to find until recently due to changes in the way heels were mass-produced. A real stiletto heel has a stem of solid steel or alloy. The more usual method of mass-producing high shoe heels, i.e. moulded plastic with an internal metal tube for reinforcement, does not achieve the true stiletto shape.
Stilettos, like all similar high-heeled shoes, give the optical illusion of a longer, slimmer leg, a smaller foot, and overall greater height. They alter the wearer's posture and gait, flexing the calf muscles and making the bust and buttocks more prominent.
Disadvantages
Edit
All high heels counter the natural functionality of the foot, which can create skeletal and muscular problems if users wear them excessively; such shoes are a common cause of venous complaints such as pain, fatigue, and heavy-feeling legs, and have been found to provoke venous hypertension in the lower limbs. Despite their impracticality, their popularity remains undiminished — as UK shoe designer Terry de Havilland has said, "people say they're bad for the feet but they're good for the mind. What's more important?"
Stiletto heels concentrate a large amount of force into a small area. The great pressure under such a heel, which is greater than that under the feet of an elephant, can cause damage to carpets and floors. The stiletto heel, unless equipped with a "heel stopper", can be impractical for outdoor wear on soft ground (such as grass, sand or mud), or in environments where floor damage is unacceptable (Lino/soft wood floors in a household or on aircraft).
See also
Edit